Composing with particles
"If architecture is frozen music, is music liquid architecture?" * (Frank Gehry)
In 1803 F.W.J. Schelling had characterized in his "Philosophy of Art" architecture as frozen music.
For him a beautiful building is nothing more than music perceived by the eye; music is a not in time but in the sequence of spaces (simultaneous) concert of harmonies and harmonic combinations.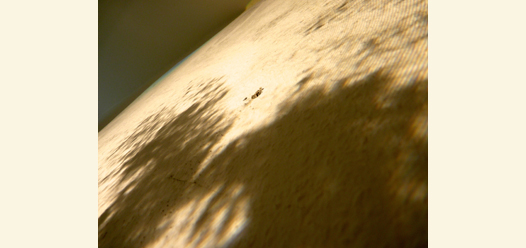 Particles from a hole in the kitchen wall reprojected onto the hole.
Particle music (?)
*The quote is used in this month's newsletter of "Unerhörte Musik", which is the only ongoing weekly event of contemporary music in Germany, for over 20 years now, run by the two composers Rainer Rubbert and Martin Daske. (every Tuesday, BKA-Theater, Mehringdamm 34, 10961 Berlin)